Designing and creating things has been an ongoing passion of mine. It started with software applications, and soon after, wood furniture. Eventually, I discovered the world of fine kaleidoscopes and after about 20 years in the computer field, around the turn of the century, being ready for new challenges — I ventured into kaleidoscope making.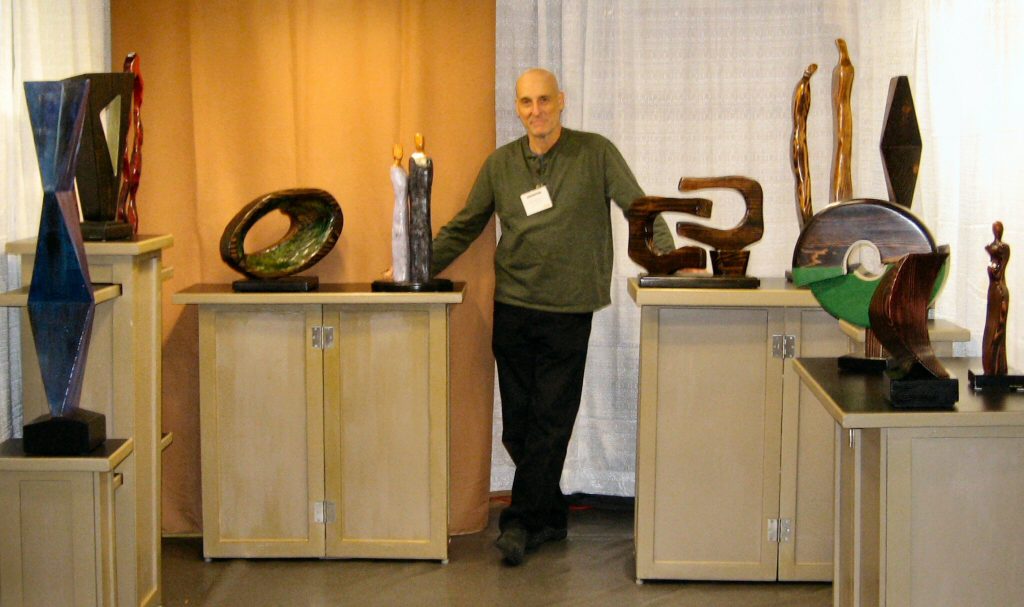 Over the years, a steady metamorphosis of sorts was naturally occurring, internally for me – and I was occasionally cognizant of it. Initially I felt like an old programmer who had become consumed with learning about and making kaleidoscopes. Eventually, after actualizing so many different designs, I had evolved into an artist who was making kaleidoscopes, and that's how others knew me.
As time continued its march, the "artist" in me started wandering in search of other objects to create, and not be limited to a certain product or line of business, or even a particular medium. Certainly knowledge, experience and inspiration have influenced my subsequent choices, and wood remains my primary working material.
Earlier sculpture objects incorporated a technique of layering numerous thinly planed strips of different hardwoods to form a laminated block from which the work was formed. This led to a series of pieces with organic patterns of varying woods.
Lately, I have been less preoccupied with which wood to use and more with what form the material takes. Color and texture remain prominent elements – which has prompted explorations with dyes and stains, and acrylic paint. Studying the materials, tools and techniques of painting has been quite rewarding and has led to many blissful hours of painting on canvas, board, and wood sculpture. I continue to look forward to working with this medium and the possibilities it presents.
Broadly speaking, the current work is contemporary and leans toward abstraction. Please do browse the galleries and let me know your thoughts. You will find some pieces are geometric, some organic, though many clearly are more figurative in nature. There are themes that I have touched upon that are compelling me to explore deeper.
I feel quite fortunate, even somewhat blessed, to be able to this "work". And I appreciate that you have found and read this page. Perhaps you will find an object of interest here or will follow this body of work into the future to see what else materializes. I hope our paths cross at some point, or many times, and develop into a mutually rewarding artistic relationship as we continue on our respective journeys.

Notes:
Category award (mixed media), Armonk Outdoor Art Show, 2008

Show award, Garrison Art Center Fine Crafts Fair, 2013

Category award (mixed media), Bethesda Row Arts Festival, 2013

Solo show, Gallery 66 NY (Cold Spring, NY), 2014

Featured on American Craft Council website

Featured in Westchester Magazine and Journal News (Westchester County, NY)

Exhibitions at: Kaleidoscope Museum of Kyoto, Japan

World Children's Art Museum, Okazaki, Japan

Belskie Museum, Closter, NJ