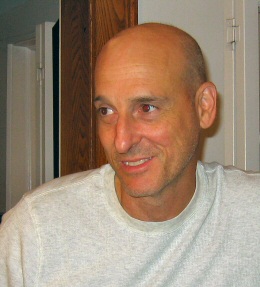 I

T SEEMS I like to design and create things. Be it computer software applications, furniture, or now kaleidoscopes, it occupies much of my thoughts and time.

I was raised in the suburbs just north of New York City, and graduated from the State University of New York at Albany, studying Business Administration and Computer Science. After many years working in the computer field, I felt it was time for a change -- preferably to something that would allow for more creative freedom. This coincided with my discovery of, and subsequent growing passion for kaleidoscopes. I decided I wanted to make them...and so it was. Adios corporate world.

I have had a long time hobby of woodworking so it was natural that my designs would be in wood. I researched and studied all of the materials I could find and "unveiled" my first scope at the Brewster Kaleidoscope Society Convention in San Diego, May 2001.

All my scopes are handcrafted by me and signed. I plan on experimenting with different mirror systems and creating a variety of unique and satisfying designs for all to share the joy and magic of kaleidoscopes with me for years to come.


Some small print: As the sole proprietor responsible for all mission critical solutions of this kaleidoscope venture, I felt empowered to designate myself the Director of Consumer Relations. This means you will speak directly to me for all questions and issues. My daughter Melanie ably assists in this area by answering the phone on occasion. I am also the V.P. of Finance, Marketing, Shipping, Purchasing, Engineering, Production... and all of these positions report to me! (wow) I guess I don't delegate well. (If you are relating to this lingo, I strongly suggest a kaleidoscope for you.)

I am also the "Webmaster" for this site. It is designed so that almost all pages are accessible with one click. You can click on most pictures for a larger view. Please let me know of any comments you have or issues that arise while running this in your browser. Thanks.